A couple years ago, a Microsoft researcher named Gordon Bell embarked on a personal experiment: He would wear a video camera around his neck all the time and keep this "life recorder" always turned on, so it would record everything he did.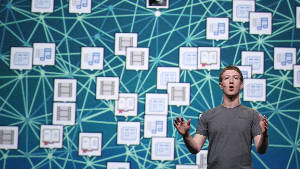 It was like an external memory drive for his brain, he wrote in a book called "Total Recall."
Sounds pretty sci-fi, right? Not so much. The "real-time sharing" updates Facebook announced Thursday aim to do something quite similar — only for the Internet instead of in real life.
Before we get into the details and implications, here's a "real-time" example of how the updates, which are rolling out in the coming weeks, will work: As I write this, I'm listening to the band LCD Soundsystem on an Internet music service called Spotify. Because I've updated my Facebook page (here's a TechCrunch article on how to do that if you're interested) and because I've logged in to Spotify with my Facebook identity, every song I listen to is automatically shared to Facebook.
Suddenly, my listening experience isn't private. It's public. All my Facebook friends are watching. And judging. Chances are this will affect people's behavior online. If you're a closet fan of Lady Gaga or Bjork or Enya (I'm all three), then you'll just have to stop listening to those potentially mockable artists — either that, or all your Facebook friends will be chiming in with comments:
"OMG, you're listening to that?!"
In the old world of Facebook, I would have to click that I "liked" a song for it to show up on my Facebook profile page. That's something you have to think about: "OK, I really like this song, and I really want all of my friends to know that I'm listening to it right now." Now, sharing is both passive and automatic. It's a choice you make in advance — one time — and never again.
Full Story Via CNN